Teaching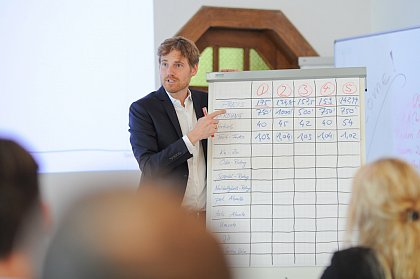 Overview of our courses
Please note
We revised our course schedule. Unternehmensethik will be offered in the winter semester starting 2021. Hence, the course takes place again in the winter semester 2021/22.
Cost Accounting will be offered in the summer semester from now on. The course will therefore take place again in the summer semester 2021.
Adaptations to our teaching due to the pandemic

To facilitate interactive learning also during the pandemic, we implement different digital teaching concepts in our courses. We generally strive to offer hybrid teaching, so that attendance is possible on site as well as from home.
For further details please check the subpages of the corresponding courses as well as Stud.IP.

General advice regarding seminar papers and theses
Are you writing your bachelor or master thesis with us? You have to write a seminar paper in one of our courses? We have put together some hints and help for you, for example a Word template or a Citavi style. You can also find our formal requirements here. Click here...
Course evaluations
We want our courses to convey interesting and relevant topics in an appealing manner. To find out how we can improve our teaching, we have students evaluate our courses. We are happy that these evaluations are mostly very positive, and we use the more negative aspects to improve for the next time. Feel free to have a look at our course evaluations!
---
---