---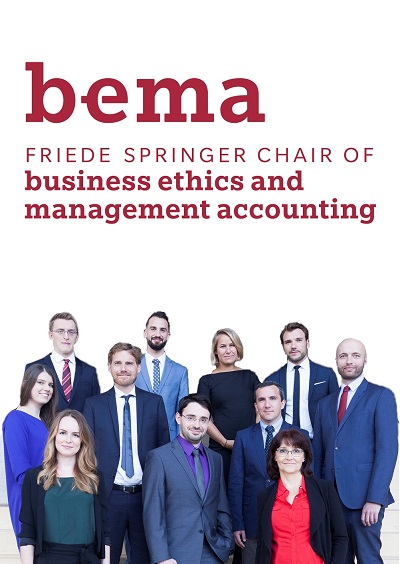 ---
Links
---
Contact
Friede-Springer Stiftungslehrstuhl für Unternehmensethik & Controlling
phone: (0345) 55-23371
fax: (0345) 55-27196
sek.schreck@wiwi.uni-halle.de
room 115
Große Steinstraße 73
06108 Halle (Saale)
---
---
Login for editors
---
Business Ethics & Management Accounting
Welcome to bema!
---
bema stands for Business Ethics & Management Accounting.

Our website is bilingual! Um auf Deutsch zu wechseln, klicken Sie auf die kleine Deutschlandflagge oben rechts.
News
Wittenberg Interdisciplinary Business Ethics Conference
15.11.2019: The first Wittenberg Interdisciplinary Business Ethics Conference for young researchers took place on November 13 – 15. bema doctoral students Andani Thakhathi, Gonzalo Conti und Simon Piest discussed current research projects with other young researchers from the field. Philipp Schreck opened the conference with an impulse talk on the relation between normative and empirical business ethics research.
Defense Linda Kannenberg and Andani Thakhathi
11.11.2019: Linda Kannanberg and Andani Thakhathi successfully defended their dissertations on November 11. Congratulations!
WCGE Policy Brief No. 2
10.11.2019: Based on her Master`s thesis at bema and co-authored by Philipp Schreck and Martin von Broock Oksana Cimbaljuk published the second WCGE Policy Brief. Interested readers can find the paper with the title "People Analytics: Trends, ethische Herausforderungen und Handlungsansätze" here (in German).
8. Academy for Energy and Acceptance
04.11.2019: From 08. til 13. March 2020 will take place the 8. Academy for Energy and Acceptance at the Wittenberg Center of Global Ethic. The motto is: "Energy Transition and Digitalisation: Climate Protection Up and Data Protection Down?
Applications can be submitted until 01.12.2019 at: https://ls.wcge.org/aea2020 .
for more information see: www.energieakademie.org
CHE Studienbefragung
28.10.2019: Die Befragung zum CHE Ranking steht an. Dieses Jahr im Fach BWL.
Paper published in Journal of Cleaner Production
04.10.2019: bema doctoral student Andani Thakhathi published a paper in the Journal of Cleaner Production. The article is based on a case study of a company raising start-up capital to foster sustainable development in rural South Africa.
Thakhathi, A. (2019). Creative start-up capital raising for inclusive sustainable development: A case study of Boswa ba Rona Development Corporation`s self-reliance. Journal of Cleaner Production, 241. Advance online publication.
bema Annual Reports.
Towards the end of a year, we compile a review of the most important and interesting research and teaching related events at bema. You can find previous annual reports here.
---
---