---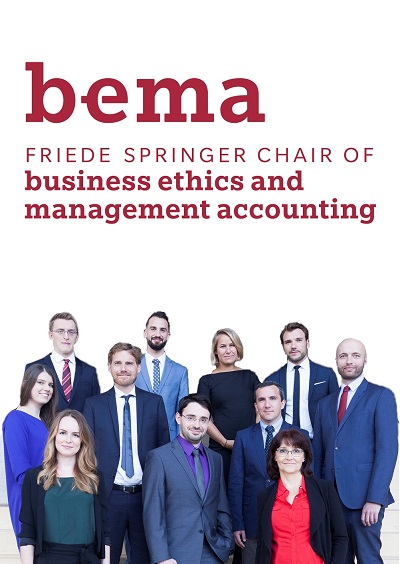 ---
---
Contact
Friede Springer Stiftungslehrstuhl für Unternehmensethik & Controlling
phone: (0345) 55-23371
fax: (0345) 55-27196
sek.schreck@wiwi.uni-halle.de
room 115
Große Steinstraße 73
06108 Halle (Saale)
---
---
Login for editors
---
Business Ethics & Management Accounting
Welcome to bema!
---
bema stands for Business Ethics & Management Accounting.

Our website is bilingual! Um auf Deutsch zu wechseln, klicken Sie auf die kleine Deutschlandflagge oben rechts.

On the occasion of our fifth anniversary we have put together a very special brochure. It comprises an introduction of the chair including insights into research and teaching of the first five years. Take a look at the brochure here!
News
scientific employee (m/f/d) for Social Entrepreneurship & Sustainabele Business Models (m/f/d)
22.02.2021: For the processing and acquisition of third-party funded research projects, we are looking in Berlin for the research field of corporate management and consumption as soon as possible.one scientific employee (m/f/d) (80% position, TVöD Bund EG 13, initially limited to the end of 2022)
Tasks:Scientific processing of ongoing inter- and trans-disciplinary research and consulting projects in the field of sustainability-oriented business research as well as participation in the conception and acquisition of new projects. One focus of the cooperation will be the BMBF project "www.teilgabe.net).
For detailed vacancy notice use: https://www.ioew.de/jobs/wissenschaftliche-mitarbeit/social-entrepreneurship-sustainable-business-models-mwd
Apply now (deadline closing soon): Doctoral program "Ethics and Responsible Leadership in Business"
09.02.2021: For admission in October/November 2021, the doctoral program "Ethics and Responsible Leadership in Business" will accept up to seven new doctoral students. The application deadline is April 18, 2021.
For more details, please have a look at the Call for Applications (PDF) and the program website .
Digital Future Challenge
02.02.2021: Digital Futur Challenge: The project for Corporate Digital Responsibility introduces itself
bema's finest – Online Edition with Gin and Tonic
20.01.2021: Last night we ran the "bema`s finest" event for our best students. This time the event took place on the Discord platform. There, the attendees could quickly switch between different virtual rooms and thus get into conversation with each other. With us was bema alumna Dr. Linda Kannenberg - she gave us insights into her work in sustainability consulting. In the run-up to the event, we sent out packets with snacks and ingredients for gin and tonic, so that also this year the physical well-being was taken care of (pictures...).
Doctoral seminar
12.10.2020: Last week we went to the Müritz for our doctoral seminar. There we spent two days discussing our research projects and planning next steps. To compensate, we also did some sports, for example jogging or kayaking. For the first time we had two new bema doctoral students with us, who will soon introduce themselves on our website.
---
---