---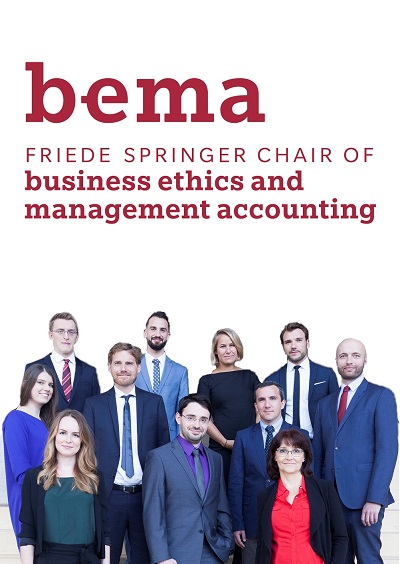 ---
---
Contact
Friede Springer Stiftungslehrstuhl für Unternehmensethik & Controlling
phone: (0345) 55-23371
fax: (0345) 55-27196
sek.schreck@wiwi.uni-halle.de
room 115
Große Steinstraße 73
06108 Halle (Saale)
---
---
Login for editors
---
Business Ethics & Management Accounting
Welcome to bema!
---
bema stands for Business Ethics & Management Accounting.

Our website is bilingual! Um auf Deutsch zu wechseln, klicken Sie auf die kleine Deutschlandflagge oben rechts.

On the occasion of our fifth anniversary we have put together a very special brochure. It comprises an introduction of the chair including insights into research and teaching of the first five years. Take a look at the brochure here!
News
Job advertisement: Student assistant (m/f/d) for video production
28.10.2020: We are looking for a new team member! You are a student and have experience with the production of videos (for example screencasts, video podcasts)? Have a look at the job advertisement!
Just published: Literature review on unethical behavior in contests
27.10.2020: The paper by Simon Piest and Philipp Schreck will be published by the journal "Management Review Quarterly" and is already available online. The authors offer an overview of factors that can lead to unethical behavior in contests among employees.
The article is "Open Access"—that is, it is freely available!
Piest, S. & Schreck, P. (2020). Contests and unethical behavior in organizations: a review and synthesis of the empirical literature.

Management Review Quarterly. doi.org/10.1007/s11301-020-00197-3
Three new doctoral students at bema
27.10.2020: The bema team has grown. Philipp Schreck supervises the doctoral theses of three international doctoral students from different backgrounds, such as economics, philosophy and data science. We are looking forward to research by and with Shayan Khan, Laurence Martel and Silvia Vázquez. The three doctoral students are scholarship holders in the doctoral program "Ethics and Responsible Leadership in Business" at the Wittenberg Center for Global Ethics.
Doctoral seminar
12.10.2020: Last week we went to the Müritz for our doctoral seminar. There we spent two days discussing our research projects and planning next steps. To compensate, we also did some sports, for example jogging or kayaking. For the first time we had two new bema doctoral students with us, who will soon introduce themselves on our website.
New course offer: Corporate Social Responsibility
01.10.2020: In the forthcoming winter semester, we will offer the seminar Corporate Social Responsibility (CSR) for bachelor students for the first time. The event is a reading seminar—we discuss influential contributions to the discussion on the nature and scope of corporate social responsibility on a weekly basis. Students can register until October 28.
Adaptations of our teaching due to the pandemic
30.09.2020: To facilitate interactive learning also during the pandemic, we implement digital teaching concepts in our courses. We strive to offer hybrid teaching as soon as possible, so that attendance is possible on site as well as from home.
Currently we upload lecture contents as videos. In addition, there are weekly video conferences in which students can ask questions and content can be further discussed. In some courses, students can self-assess their understanding with quizzes that we upload weekly.
Students can find the details in the respective Stud.IP courses. We also provide brief insight on the respective pages under Teaching (this websie).
---
---