---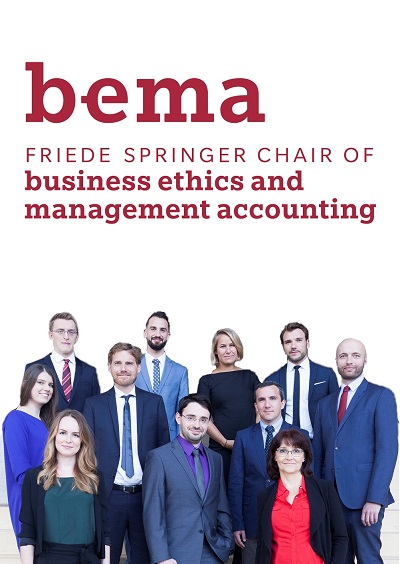 ---
---
Contact
Friede Springer Stiftungslehrstuhl für Unternehmensethik & Controlling
phone: (0345) 55-23371
fax: (0345) 55-27196
sek.schreck@wiwi.uni-halle.de
room 115
Große Steinstraße 73
06108 Halle (Saale)
---
---
Login for editors
---
Business Ethics & Management Accounting
Welcome to bema!
---
bema stands for Business Ethics & Management Accounting.

Our website is bilingual! Um auf Deutsch zu wechseln, klicken Sie auf die kleine Deutschlandflagge oben rechts.

On the occasion of our fifth anniversary we have put together a very special brochure. It comprises an introduction of the chair including insights into research and teaching of the first five years. Take a look at the brochure here!
News
Doctoral seminar
12.10.2020: Last week we went to the Müritz for our doctoral seminar. There we spent two days discussing our research projects and planning next steps. To compensate, we also did some sports, for example jogging or kayaking. For the first time we had two new bema doctoral students with us, who will soon introduce themselves on our website.
---
---