---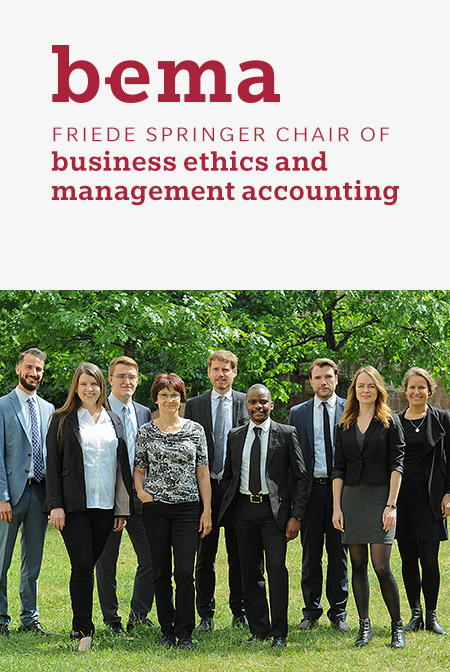 ---
Links
---
Contact
Friede-Springer Stiftungslehrstuhl für Unternehmensethik & Controlling
phone: (0345) 55-23371
fax: (0345) 55-27196
sek.schreck@wiwi.uni-halle.de
room 115
Große Steinstraße 73
06108 Halle (Saale)
---
---
Login for editors
---
Business Ethics & Management Accounting
Welcome to bema!
---
bema stands for Business Ethics & Management Accounting.
Our website is bilingual! Um auf Deutsch zu wechseln, klicken Sie auf die kleine Deutschlandflagge oben rechts.

News
Guest lecture Alfons Balman: Wednesday, January 10, 6pm
31.12.2017: We start 2018 with an interesting guest lecture: As part of the workshop series "Research in Ethics and Accounting", Alfons Balman will discuss his research: "Can modern agriculture meet societal expectations?"
Professor Balman is director of the Leibniz Institute of Agricultural Development in Transition Economies (IAMO) and head of the department Structural Development of Farms and Rural Areas (Structural Change).
We are looking forward to seeing many of you there!

bema wins award for the best course
18.12.2017: We are glad to announce that our lecture Unternehmensethik (Business Ethics) was elected the best course for the second time. We take this as motivation to improve our courses even more!
bema annual report now availble!
19.12.2017: The year is coming to an end, but before that, you may want to have a look at bema`s annual report, which is now available. It includes an overview of the chair`s various activities in 2017. The report is only available in German – however, please go ahead and have a look at it even if your German is poor – we included lots of pictures!
---
bema Annual Reports.
Towards the end of a year, we compile a review of the most important and interesting research and teaching related events at bema. You can find previous annual reports here.
---
---