The CSR-Simulation
An interactive learning tool for sustainable business decisions
A responsible and sustainable business conduct is one of the most topical economic issues. Knowledge about the theoretical background and practical competencies in this area are essential for today's managers. Our simulation game TOPSIM-Corporate Social Responsibility Management provides a consolidated and application-oriented overview of the core questions related to a sustainable business strategy in a realistic competitive context. Participants of the simulation direct a medium-sized business and make decisions in all company departments. They have to ensure a positive operating result as well as ecological and social aspects of their activities.
The simulation was developed jointly by TATA Interactive Systems and Philipp Schreck with the goal of conveying CSR topics in an innovative and realistic way. The start-up phase was generously funded by the Hans Sauer Stiftung.
To find out more, please visit the simulation game's website .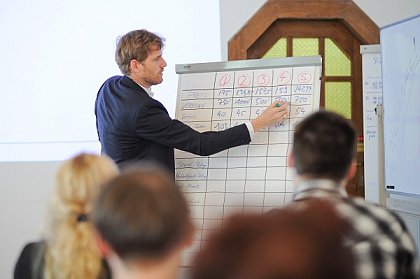 Philipp Schreck analyzes results of the simulation
---
---