Wittenberg Center for Global Ethics
The Wittenberg Center for Global Ethics—WCGE for short—is a non-profit think tank. The WCGE aims to communicate ethics for decision-makers of today and tomorrow—independently, scientifically sound and globally oriented. In this mission it cooperates with partners from politics, business, science, civil society and churches. The WCGE's projects focus on the three core areas of dialogue, seminars and science.
Dialogue processes. For example, a set of principles for responsible action in business was developed in cooperation with more than 50 companies and organizations.
Seminars. With its seminars on ethical issues in business, the WCGE focuses on a wide range of target groups. The range extends from events for students, such as the Herbstakademie ("autumn academy") and the Academy for Energy and Acceptance, to seminars for doctoral students and a management colloquium for experienced managers.
Science. The WCGE initiated the establishment of several chairs in business ethics, most recently the Friede Springer Endowed Chair of Business Ethics and Management Accounting (bema). It is also organizes the international doctoral program "Ethics and Responsible Leadership in Business."

There is intensive cooperation between the bema-chair and the WCGE. Philipp Schreck supports the WCGE, among other things, in supervising the graduate school and in management trainings.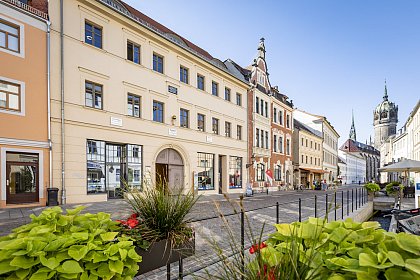 The historic Wilhelm-Weber building in the center of Wittenberg houses the WCGE. Photo by Jörg Farys / Die Projektoren.
---
---