---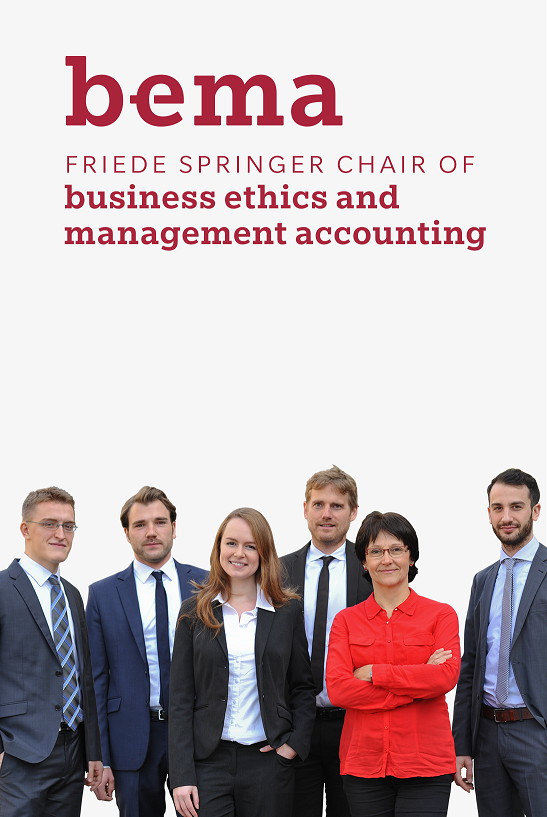 ---
Contact
Friede-Springer Stiftungslehrstuhl für Unternehmensethik & Controlling
phone: (0345) 55-23371
fax: (0345) 55-27196
sek.schreck@wiwi.uni-halle.de
room 115
Große Steinstraße 73
06108 Halle (Saale)
---
---
Login for editors
---
Business Ethics & Management Accounting
Welcome to BEMA!
---
BEMA stands for Business Ethics & Management Accounting.
News
Guest lectures on compliance and supply chain management
29.06.2016: As part of the course "Business Ethics" (Unternehmensethik), we invite practitioners who can give the students insights into the application of business ethics. In the past two weeks we were lucky to hear two exciting lectures by Dr. Anna-Maija Mertens (Transparency International) and Dr. Peer Wiethoff (Nokia).
Zittau Conversations on Business Ethics /
Call vor Papers
19.04.2016: Together with the Chair for Social Sciences at the Technische Universität Dresden we organize the 11. conversations on business ethics in Zittau (October 2016). This year`s topic is "Corporate (Social) Performance – Measuring Corporations` Success and Responsibility".
Extended abstracts of theoretical or empirical papers as well as case studies can be submitted before July 3, 2016. The conference is intended for academics and interested practitioners.
There will also be a PhD workshop.
Call for Papers: Social and Ethical Issues in Management Accounting and Control
21.03.2016: Together with Frank Hartmann (Erasmus University Rotterdam) and Jan Endrikat (TU Dresden), Philipp Schreck will edit a Journal of Management Control special issue treating "Social and Ethical Issues in Management Accounting and Control". Papers should be submitted before November 30.
---
---