Rebecca C. Ruehle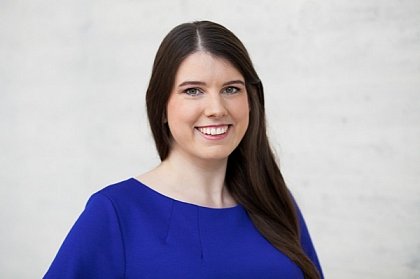 Foto: Yvonne Most Fotografie
From 2016 until 2019 Rebecca was part of the doctoral program "Ethics and Responsible Leadership in Business" at the Wittenberg Center for Global Ethics after graduating from the DHBW Stuttgart (BA, International Business), the University of Mannheim (MA, Culture and Economics) and the University of St Andrews (MLitt, Philosophy). She gained expertise in business administration, both applied and theoretical ethics, political philosophy, corporate social responsibility, and psychology. In her PhD thesis in the field of behavioural business ethics, Rebecca critically assessed the instrument of corporate nudging.
Starting in 2009 Rebecca worked six years for IBM Germany with overseas assignments in the USA and China. In her main function she supported the IBM Corporate Citizenship department in Germany. From May 2017 until 2019 she was employed at the University of Halle-Wittenberg with the task to create and design an online course on behavioural business ethics. During that time she also taught business ethics and applied ethics at university level, mainly at the University of Mannheim. In 2020, Rebecca started working as an Assistant Professor of Business Ethics at the Vrije Universiteit Amsterdam.
You can contact her via LinkedIn .
---
---