Tobias Hübotter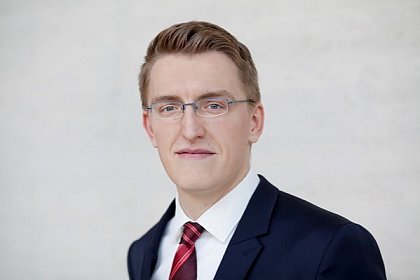 Foto: Yvonne Most Fotografie
From 2009 to 2015 I studied at the MLU focussing on Management Accounting. During that time I also completed a domestic internship as well as two stays abroad in China and Saudi-Arabia.
In September 2015 I have joined the team of the Chair for Business Ethics and Management Accounting. I'm looking forward to exciting insights into reasearch and teaching.
My dissertation in behavioral management accounting deals with emergence of irrational behavior by employees in their work environment, the associated consequences in business, and the potential intervention of management accounting to avoid these distortions of judgment.
Contact
M.Sc. Tobias Hübotter
room 129 b
Große Steinstraße 73
06108 Halle (Saale)
phone: (0345) 55-23316
fax: (0345) 55-27196
tobias.huebotter@wiwi.uni-halle.de
postal address:
Martin-Luther-Universität Halle-Wittenberg
Wirtschaftswissenschaftlicher Bereich
Friede-Springer Stiftungslehrstuhl für Unternehmensethik und Controlling
06099 Halle (Saale)
---
---