---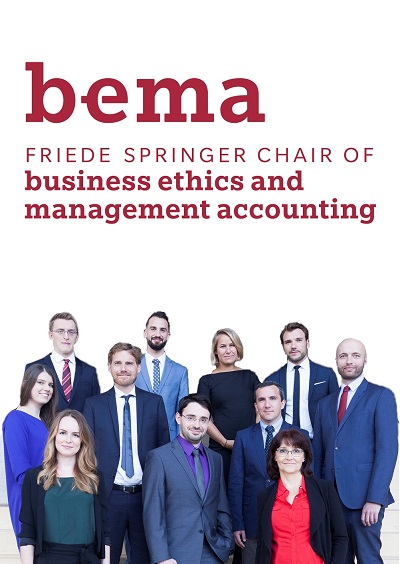 ---
Links
---
Contact
Friede Springer Stiftungslehrstuhl für Unternehmensethik & Controlling
phone: (0345) 55-23371
fax: (0345) 55-27196
sek.schreck@wiwi.uni-halle.de
room 115
Große Steinstraße 73
06108 Halle (Saale)
---
---
Login for editors
---
Business Ethics & Management Accounting
Welcome to bema!
---
bema stands for Business Ethics & Management Accounting.

Our website is bilingual! Um auf Deutsch zu wechseln, klicken Sie auf die kleine Deutschlandflagge oben rechts.
News
Five years of bema
01.04.2020: The bema chair was founded five years ago. On the occasion of this anniversary we have put together a very special brochure. The brochure comprises an introduction of the chair including insights into research and teaching of the past five years. Take a look at the brochure here!
Shift to Online Teaching
26.03.2020: To enable students to continue attending our courses, we are converting our teaching to online formats as far as possible. More specific details will be announce in the corresponding courses on StudIP.
Apply now for one of six scholarships for the
doctoral program "Ethics and Responsible
Leadership in Business" at the WCGE
30.01.2020: Do you want to pursue a PhD in Business Ethics? Apply now for a scholarship for the PhD program starting November/December 2020. The application deadline is April 26, 2020.
Find out more about the doctoral program here . Find the call for applications here .
7th Responsible Management Education Research Conference in Chur (October 2020)
07.02.2020: In October 2020, the 7th RME Research Conference will take place in Chur (Switzerland). A central topic of the conference is digitization and artificial intelligence, and their link to RME and the SDGs. It is now possible to suggest conference tracks.
New seminar: Theories of Business Ethics
30.01.2020: As of this summer semester we offer the seminar "Theories of Business Ethics." During the two-day-seminar Master students discuss prominent theories or schools of thought in buisness ethics including each approach's theoretical background, its methodology, and its main arguments. Please find more details under Teaching or on StudIP.
bema Annual Reports.
Towards the end of a year, we compile a review of the most important and interesting research and teaching related events at bema. You can find previous annual reports here.
---
---