---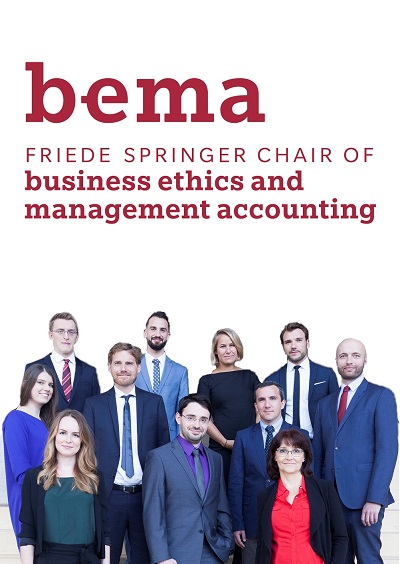 ---
Links
---
Contact
Friede-Springer Stiftungslehrstuhl für Unternehmensethik & Controlling
phone: (0345) 55-23371
fax: (0345) 55-27196
sek.schreck@wiwi.uni-halle.de
room 115
Große Steinstraße 73
06108 Halle (Saale)
---
---
Login for editors
---
Business Ethics & Management Accounting
Welcome to bema!
---
bema stands for Business Ethics & Management Accounting.

Our website is bilingual! Um auf Deutsch zu wechseln, klicken Sie auf die kleine Deutschlandflagge oben rechts.
News
Paper published in Journal of Cleaner Production
04.10.2019: bema doctoral student Andani Thakhathi published a paper in the Journal of Cleaner Production. The article is based on a case study of a company raising start-up capital to foster sustainable development in rural South Africa.
Thakhathi, A. (2019). Creative start-up capital raising for inclusive sustainable development: A case study of Boswa ba Rona Development Corporation`s self-reliance. Journal of Cleaner Production, 241. Advance online publication.
bema in Boston
17.09.2019: The bema PhD candidates Rebecca Rühle and Nils Kruse were recipients of this year`s Founder Award of the Society of Business Ethics (SBE). The prize was awarded at the SBE Meeting 2019 in Boston for their paper abstracts in the field of business ethics. Both were also part of the emerging scholar program, where they had the chance to meet personal mentors to discuss their current research projects.
Rebecca also took part in this year`s Academy of Management Meeting (AOM), which likewise took place in Boston. The conference offered an opportunity to reunite with bema alumna Julia Grimm, who received her PhD in Business Ethics and Responsible Leadership earlier this year.
bema Annual Reports.
Towards the end of a year, we compile a review of the most important and interesting research and teaching related events at bema. You can find previous annual reports here.
---
---